Dymatize
Glutamine Micronized
, 300 Grams Unflavored
Free Form Amino Acid
Laboratory Tested For Quality & Purity!
Product Overview
Amount Per Portion
Glutamine
4.5g
After fitness workouts, metabolism remains elevated and the build-up of muscle protein is stimulated. Amino acids are the building blocks of these proteins. The most common free amino acid in human muscle tissue is L-Glutamine - a proteinogenic amino acid.
L-Glutamine is seen as one of the basic supplements in fitness sport and is often used after every workout. Dymatize® GLUTAMINE MICRONIZED contains 100% L-Glutamine! Due to its unflavoured taste, Dymatize® GLUTAMINE MICRONIZED powder can conveniently be added to water or juice and has great solubility through micronization!
Provides 4.5g of high quality L-Glutamine per serving
L-Glutamine is the most abundant free amino acid in muscle tissue
Unflavoured
Suitable for vegans, free from gluten and free from lactose
Banned substance tested by "Informed-Sport" for athletes' assurance and highest product quality
All Dymatize products which hold the Informed-Sport certification have been tested for banned substances by the world-class sports anti-doping lab LGC. In addition, Informed-Sport ensures that all products have been manufactured to high quality standards and are safer for athletes to use.
Sizes and Flavours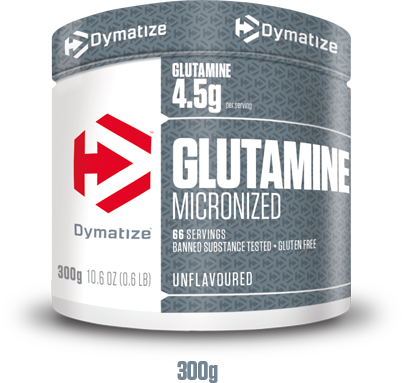 Why Dymatize
Do you have what it takes to be an athlete?
Since the day Dymatize was founded in 1994 in the United States, we have always believed perfection is achievable.
To meet this challenge, we are 100% committed to building athletic nutrition products that are masterfully formulated and produced with only the highest quality ingredients and deliver an increasing range of flavors and functionality. We strive for perfect products, we strive to set the bar higher and we continously build upon our high standards to get as close as we can to perfection. Because we are DYMATIZE. Perfecting Athletic Nutrition.
Do you have what it takes to be an athlete?
Ratings & Reviews
What's in Dymatize Glutamine Micronized
300 Grams

Unflavored

Serving Size 1 3/4 tsp. (4.6 g)

Servings Per Container About

65

Amount Per Serving

Calories

20

L-Glutamine

4.5 g

*

* Daily Value not established
Directions For Glutamine Micronized: 1 serving per day, after workout.
Mixing Instruction: (1 portion): Mix 1 scoop (= 4.5 g) with water or juice - scoop included.
Warnings: This food supplement should not be used as a substitute for a varied diet. A balanced diet and a healthy lifestyle are important. Do not exceed the recommended daily intake. Keep out of reach of young children. Ingredients: L-Glutamine. Sold by weight, not volume. Store in a cool, dry place. Close after opening.
Glutamine made in USA.
Active Nutrition International GmbH
Zielstattstraße 42, 81379
München, Germany
* These statements have not been evaluated by the Food and Drug Administration. This product is not intended to diagnose, treat, cure, or prevent any disease.
---