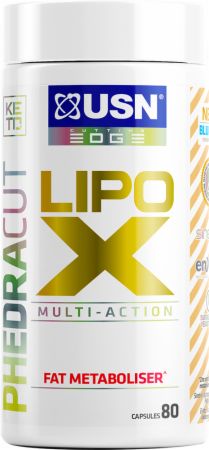 USN
Lipo X Fat Metabolizer
, 80 Capsules
Food Supplement Capsules
Scientifically Developed With Patented Ingredients, 200Mg Caffeine Per Serving
Product Overview
Our most advanced fat burner yet! The all-new PhedraCut Lipo X is a revolutionary thermogenic weight loss aid, scientifically developed with patented ingredients, trialed and proven to deliver substantial weight loss results.
Ratings & Reviews
What's in USN Lipo X Fat Metabolizer
Serving Size 4 Capsules

Servings Per Container

20

Per 4 Capsules

*%RI

Sinetrol® (Citrus paradisi L., Paullinia cupana Kunth, Citrus sinensis L. Osbeck)

900 mg

EnXtra™ (Alpina galanga)

200 mg

Green Tea Extract (Camellia sinensis)

50 mg

Total caffeine

200 mg

Vitamins & Minerals

Pantothenic Acid

.9 mg

16%

Vitamin B6

.3 mg

21%

Zinc

1.6 mg

16%

Ingredients:

Sinetrol® [Grapefruit extract (Citrus paradisi L.)

, Guarana seed extract (Paullinia cupana Kunth)

, Orange extracts (Citrus sinensis L. Osbeck)]

, Bulking agent (Microcrystalline cellulose),

, Vegetable capsule [Glazing agent (Hydroxypropyl methyl cellulose)

, Potassium aluminium silicate

, Titanium dioxide

, Iron oxides and hydroxides)]

, Natural anhydrous caffeine (Green coffee bean extract)

, EnXtra™ (10:1 Extract from roots of Alpinia galanga)

, Green tea extract (20:1 Extract from leaves of Camellia sinensis)

, Anti-caking agents (Magnesium salts of fatty acids

, Silicon dioxide)

, Zinc Bisglycinate

, D-pantothenate

, Calcium

, Pyridoxine Hcl

ALLERGENS: No common allergens have been added.
Directions For Lipo X Fat Metabolizer: Take two capsules twice daily or four capsules at once in the morning before breakfast or morning workout.
Warnings: Contains caffeine (200mg/4 capsule serving). Not recommended for children, pregnant or breastfeeding women. Do not exceed 400mg caffeine per day from all sources (200mg/day for pregnant or breastfeeding women). Do not exceed 1 serving per day. Food supplements should not be used as a substitute for a balanced, varied diet & a healthy active lifestyle. Store in a cool, dry place. Keep out of reach of children.
FOOD SUPPLEMENT WITH EXTRACTS, CAFFEINE, ZINC AND VITAMINS
USN (UK) LTD Seven House, High Street, Longbridge, Birmingham, B31 2UQ
* These statements have not been evaluated by the Food and Drug Administration. This product is not intended to diagnose, treat, cure, or prevent any disease.
---